L Spa Da Nang Facials Explained
When settled into a private and comfortable L Spa facial treatment room, our therapist will conduct a skin observation.  Having an understanding of skin conditions and characteristics, selections of products for use and plan for the treatment are made. 
Our Da Nang Facial service will begin with the removal of makeup and a mild, general cleaning of the skin to remove surface oils and residues.  The individual steps that follow in the process are explained below.
Cleansing
To prepare for all facial treatment processes and to start with clean and receptive skin, thorough cleansing is administered.  Using appropriate products based on individual skin characteristics, foaming cleansing agents and / or lotions are carefully worked and massaged into the skin for removal of deeper oils and impurities.  When complete, cleansing agents are removed by sponge and the skin is rinsed with warm water and dried.
Exfoliation
Following cleansing, exfoliation is then provided to remove dried and dead skin cells.  Proper and adequate exfoliation is instrumental to allow the skin to absorb products used in later stages, such as a mask and moisturizers.  In most cases and skin types, a mildly abrasive, physical exfoliating agent for this process is used in our facials.  Chemical agents are also available and may be used in some instances.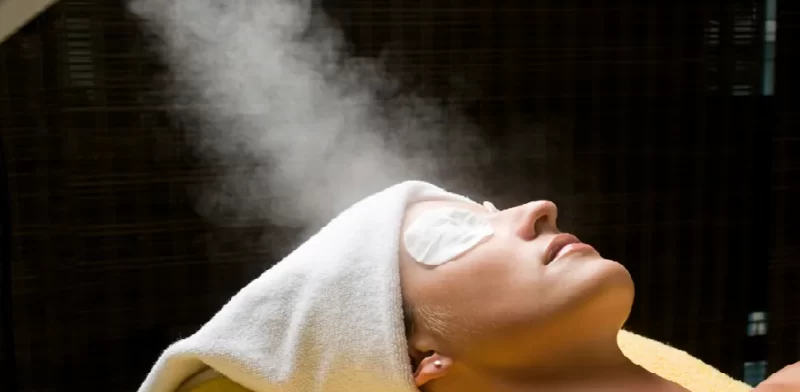 Facial Treatment Steaming
With cleansing and exfoliating complete, steaming is provided to support several benefits in the facial treatment process.  Through elevating external and internal skin temperature, steaming opens the spacing of pores allowing hardened oil deposits including blackheads to soften for more effective removal.  It also aids in pulling moisture from beneath to the skin surface for improved outer skin hydration. For additional information on its importance and benefits, and helpful tips for doing it yourself at home, read more about steaming here.
Suctioning
After the pores of the skin have been enlarged and oil deposits and solid formations softened from steaming, suctioning follows.  This process lifts and pulls oils and impurities including blackheads to the surface where they can be suctioned and removed.  Suctioning is generally sufficient as a skin care maintenance method in most cases.  When additional extraction processes are required, methods including manual extraction can be used.
Facial Massage
it's now time for the anticipated relaxation of a facial massage.  With the use of moisturizing agents, gliding, upward motions of the therapist's hands relax and stimulate the skin of the neck, face, and eye regions.  While very calming and with several important benefits, massage boosts circulation in the skin which is known to increase collagen generation, aid in reducing wrinkles and generally enhance anti-aging processes.
Mask
Relaxation continues with the application of a facial treatment mask.  The type of mask selected for use varies based on individual skin conditions.  Characteristics considered in the selection of an appropriate mask include oily or dry skin, hydration requirements, acne presence and others determined at the time of initial skin observation.  While the mask is in place, massage of the head, neck, and shoulders is provided.  This works wonders in enhancing a sense of calm and reducing tension and stress during the treatment.
Completing the L Spa Da Nang Facial Treatment
The final steps of our facials are the application of suitable toner, mist, moisturizer, and sun cream.  Toner is used to remove any oils and residues remaining from the treatment and to allow the skin to more deeply absorb the products applied following.  Mist, serum, and moisturizers are then worked into the skin to hydrate, moisturize and leave the skin vibrant and glowing.  Finally and when appropriate and preferred, sun cream is applied and the service is complete.
We look forward to providing you with our effective and relaxing facials in Danang.  You may refer to the facials page of our website for details of service options.  For additional relaxation or relieving sore muscles during your time with us, visit our massage page for available selections.